You may recall the movie "Pollyanna." The preacher of the church represented in the story found it necessary to "lam into" his congregation from time to time, just to keep them in line. His pulpit stood high above the congregation.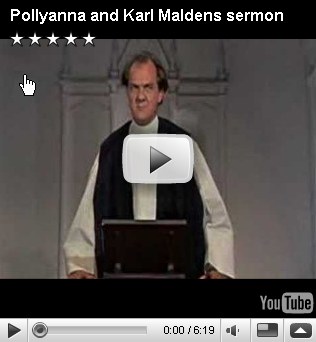 Copyrighted video.
Use here in critical commentary is fair use.
As he spoke, his posture suggested a huge bird of prey. "Death comes unexpectedly", would reverberate through the frame building. He then would remind the congregation of all their flaws and the wiles of the devil. The church would leave after the service with a sour stomach.
I have no desire to appear morbid but death does come, expectedly or not. In the last few weeks, I have taken part in two funerals. Both were faithful Christian women and neither was unexpected.
Funerals tend to make the mature among us more aware of our own mortality. I thought it an appropriate time to share some thoughts concerning death.
From the moment we are conceived, our tiny lives begin a trajectory toward the destiny of all mankind. We have an appointment with death (Hebrews 9:27). That appointment will be met. What should our response be to that inevitability?
As we travel the trajectory toward death, we travel a parallel trajectory toward eternity. Our response to one should be preparation for the other.
The powerful impact of eternity is that it has already begun with the in-breaking kingdom, God's future kingdom made real in the present. The spark of life that brought us into being launched us on our eternal journey. Preparation is a two edged sword. Preparation for death is preparation for eternity. Preparation for eternity is preparation for death.
Jesus said, "Unless a grain of wheat falls into the earth and dies, it remains alone; but if it dies, it bears much fruit." Jesus uses the principle here to illustrate the means by which He will be glorified– through death on the cross and victory over death. Discipleship comes through dying to self. The fruit that is born through the death and resurrection of Jesus is eternal life for those that serve Him. He is called "the first fruits of those who are asleep."
A change is required so that we can be equipped to continue our journey. Scripture says "not all will sleep (die) but that we shall all be changed."
How are the dead raised? Remember the wheat?
That which you sow does not come to life unless it dies
That which you sow is not the body which is to be
God gives it a body just as he wished
Flesh and blood cannot inherit the kingdom of God
The resurrection of those who sleep:
Body that is sown will decay
It is raised immortal
Sown in dishonor
Raised in glory
Sown in weakness
Raised in power
Sown a natural body
Raised a spiritual body
For those alive when Jesus comes again:
The mystery– we will not all sleep, but we will all be changed
The dead raised: immortal, in glory, in power, a spiritual body
Those living faithful changed: immortal, in glory, in power, a spiritual body
… then will come about the saying that is written, "DEATH IS SWALLOWED UP in victory. 55″O DEATH, WHERE IS YOUR VICTORY? O DEATH, WHERE IS YOUR STING?" 56The sting of death is sin, and the power of sin is the law; 57but thanks be to God, who gives us the victory through our Lord Jesus Christ.
58Therefore, my beloved brethren, be steadfast, immovable, always abounding in the work of the Lord, knowing that your toil is not in vain in the Lord. I Corinthians 15: 54-58
–Chris Schaefer